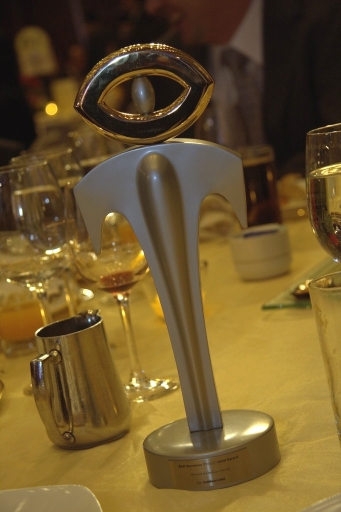 The 2007 Hong Kong ICT Awards ceremony and gala was a lavish affair held at the Hong Kong Convention and Exhibition Centre last night, January 21st, 2008. Outblaze competed in the Best Business (Product) stream, and took home the Gold Award with our white label social video service, OutblazeVideo. It was a pretty positive start to the new year. As you may remember, just last November OutblazeVideo won the APICTA award for the Tools and Infrastructure category, so it's almost time for us to buy a new display cabinet.
The Hong Kong ICT Awards were established in 2006 as a collaborative effort among industry support organizations, ICT professional bodies, academia and the Government to establish a large scale and internationally recognized brand of ICT awards for Hong Kong. By the way, congratulations to our affiliates Dream Cortex and Sanrio Digital, who took home a Merit Award in the Digital Entertainment award category (read the press release on their web site).

You can peruse the Outblaze entry to learn more about OutblazeVideo, or browse through the other winners of Best Business awards. The winners for Best Business not only show the tremendous breadth of Hong Kong expertise and potential, but also indicate a few of the things Hong Kongers are passionate about. OutblazeVideo needs no explanation since Hong Kong has always been crazy about movies – especially free ones.
Not to be missed is Team and Concepts Limited, who won a Gold for EditGrid, their fantastic online spreadsheet. This clearly suggests that Hong Kong people put great value on efficiency and organization, and we all know that is the case.
Hong Kong Exchanges and Clearing Limited won for their Electronic Disclosure System, used for fast news distribution in the Hong Kong Securities market. Stock markets, as everyone knows, are the unofficial godparents of anyone who lives in Hong Kong.
Hong Kong's Immigration Department – one of the finest anywhere – won for the Hong Kong Electronic Passport System, which is one of the most secure and efficient in the world, and possibly the fastest. Having a love for efficiency and organization, it is imperative that Hong Kongers spend as little time as possible going through the tedious bureaucratic and admission procedures that afflict other parts of the world. Having to wait more than five minutes at the border has been known to cause collapse among some Hong Kong residents.
Centamap, owned by property behemoth Centaline (see the Awards summary), is a bilingual interactive map of Hong Kong that shows you everything about an immediate neighbourhood: public transport, cinemas, shopping, dining, etc. In fact you don't need to be a prospective property buyer to find Centamap useful. Very helpful in discussions where you attempt to explain the meaning of the word "value" to the stubborn and increasingly common landlord who wants to raise your rent by 40%.
The Pamela Youde Nethersole Eastern Hospital snagged an award with their Surgical Virtual Reality Lab, which looks really useful for planning surgeries and teaching. Hong Kong maintains high standards of medicine, which is good in the unlikely case that your wait to get through Immigration exceeds five minutes and results in your collapse.
The Hong Kong branch of NEC won with the NeoFace Control Face Recognition System, a nifty gadget that will recognize your face and unlock a door for you in the space of one second. Biometrics, particularly when done well, is a hot topic but this particular item is of special interest because it symbolizes the very best in security – the days of the forbidding metal gates in front of your door are numbered.
Hong Kong RFID Limited brings us the Xapphireâ"¢ Jewellery Management System, which utilizes radio frequency ID to keep track of inventory. It can read and distinguish between up to 140 different items on a single tray, which is about what the average Hong Kong shopper requires per sitting. Those little radio chips eliminate the need for jewellery to be displayed with unsightly objects that distract from the shopping experience, such as item listings or price tags.
Mobigator Technology Group offers Cardisys, a cardiology management system that handles the workflow and management cycle for cardiac surgery and patient care, from diagnosis to rehabilitation. Clearly this is of immense value to RFID-tracked jewellery shoppers who have recently received their credit card bills.
I'd love to make more broad and sweeping comments but there just isn't enough time. I think you'll agree with me, however, that these awards quite accurately reflect the Hong Kong ethos and psychology. I strongly encourage you to browse the list of winners and see for yourself not just that I am right, but also that Hong Kong offers a constellation of exciting innovation, opportunities, development, technological achievements, and creativity among both the public and private sectors.
There were multiple award categories: Business, Digital Entertainment, Digital Inclusion, Innovation & Research, Lifestyle, Public Service Application, and Ubiquitous Networking. You can see all the winners in all the categories here.
On to the event, already
First and foremost, the dinner was incredible. The food was perfect, being both delicious and varied, to the point that my palate was under the impression we were eating in a five-star restaurant instead of a convention centre. Overseas readers should note that one thing Hong Kongers are unable to tolerate is a bad meal. At many of the events that host 700+ guests the food is not necessarily bad but it tends to be served quite slowly, so that you spend most of the meal salivating in anticipation. Not so at the HK ICT Awards – service was fast, and no glass remained empty for more than a few moments.
Decor, atmosphere, table settings, were all top notch as well, as you can see in the photographs throughout this blog post. Kudos to the organizers.
Famous names from the Hong Kong government were on stage to officiate, five of them in the picture below:
(from left to right) Howard Dickson (Government Chief Information Officer), Rita Lau (Permanent Secretary for Commerce and Economic Development), John Tsang (Financial Secretary), Frederick Ma Si-Hang (Secretary for Commerce and Economic Development), professor Lawrence J. Lau (Vice-Chancellor of the Chinese University of Hong Kong and chairman of the Grand Judging Panel).
The various speeches were kept brief and concise and as a result were well appreciated by all. The awarding process took quite a while, because of the sheer number of awards handed out in all categories, however the MCs kept things moving at a brisk pace. All in all a pleasant and enjoyable evening, which could be taken as a showcase of how to organize a successful gala event.
It would take too long to recount the many interesting people I met and the companies I learned about, so I'll just close with some more photos – hold your mouse over them to see captions. I'd like to extend congratulations on behalf of Outblaze to all the winners of the Hong Kong ICT Awards 2007.
Below are three members of the Outblaze Innovation and Creativity Management (ICM) team, responsible for OutblazeVideo (from left to right: Vicky Tam, Tim Liu, and Tsang Chui Hang).