Outblaze has donated a shipment of low-cost Android tablets, apps, SD cards, notebooks, writing tools and other supplies to the Sundardevi Lower Secondary, a school for about 170 students in Tame village in the mountainous Nuwakot district of Nepal (see Nepal Green Tara Foundation). This required us to overcome a number of challenges.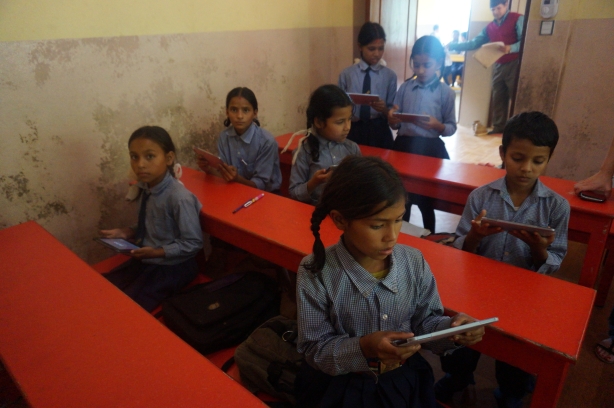 Here at Outblaze we always have our eye on the potential of inexpensive Android devices for good social causes. Last year we cooperated with Animoca to equip kids in a local school with Android tablets, and we conducted a follow-up study on how the children were affected by the new technology. It is our belief that exposure and access to relevant technologies are essential to children's education and to their future economic opportunities. The availability of inexpensive technology is therefore critical when addressing the digital divide, especially in developing economies.
Donating tablets to a school in a remote village 2,500 metres up the Himalayans, however, is not easy. With no prior exposure to digital technology, no Internet access and scant electrical power, we were concerned about the students' ability to get the most out of the tablets. Fortunately, we never let the finer details stop us.
The tablets donated were PIPO U1 7" DualCore HD-IPS , a relatively high-end but very affordable 7-inch 720p Android device with graphical quality and CPU power roughly equivalent to an iPad 2. The PIPO's support for an external SD card allowed us to install software without the need to connect to the Internet; we simply loaded a few SD cards with several apps and showed the new users of the tablets how to install and uninstall apps using the expansion slot instead of an app store. Apple devices as well as Android devices lacking SD card expansion would not have been very useful in this situation.
The reception of the tablets was extremely interesting. After some initial hesitation – and even outright fear on the part of some of the shyer kids– the students clustered together in small groups to explore the new technology. None of them had ever held anything of the sort in their hands before, yet they clearly found the touch interface very friendly and pretty soon they were cheerfully sharing each discovery they made. Of special emphasis is that the children required very little instruction in the use of the devices, preferring instead to learn organically and intuitively by sharing in clusters of 3-4 people.
ThinkBlaze, the Outblaze idea-generation entity,was also a sponsor of this initiative. Animoca kindly donated Baby Cortex edutainment software including Alphabet Car, Word Magic, Baby Writer, Baby Flash Cards, Baby Shapes & Animals, and Baby Mozart.  In addition to the tablets, the donation also included pens, pencils, notebooks, and other school supplies.